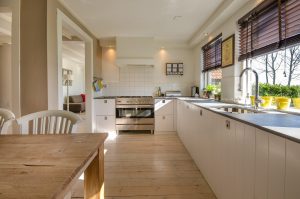 Are you building a brand-new kitchen? Are you planning to hire the services of a kitchen designer or you plan to do it on your own? Maybe, you want a part of work on your own and work with a designer for the rest. When you are building a new kitchen, one of the biggest things to worry about is organising schedules. There is no standard answer for how long it takes to fit out a completely new kitchen. Zenstone knows it's an open-ended question and depends on a number of factors including the complexity of the fittings as well as the size of the room, among other things.
Be Prepared
Prepare yourself to live without a kitchen. When you ask someone about the time it takes to fit a kitchen, you should know that your own preparation has a huge role to play. If you prefer it in stages, it will take a longer time as compared to getting it done at one go by sealing of the kitchen area. If you plan to use a contractor for the refit, they might offer guidance and in some cases, even arrange some alternative kitchen facilities. In such cases, your garage, utility or study can become a temporary kitchen (fully functioning).
Budget
You need a budget but it shouldn't be focused on getting things done at the lowest cost possible. Nobody wants to pay extra for a product or service but if you are able to get something with a much longer service life, the extra expense is worth it. You need to be clever when budgeting. Focus on spending the right amount of money on the right things. If the budget is an issue, think of saving money by repurposing your cabinet structures. When you think of budgeting in this manner, you will find that there is enough room in the budget to get that marble worktop into your kitchen.
Scheduling
Scheduling here doesn't mean the project schedule itself. In this section, we will discuss your home schedule. If you want to keep the time taken to fit the kitchen to a minimum, you need to think seriously before making a schedule. So, you need to plan your schedule around school holidays and big family birthdays and other important events. This will keep your stress levels down when the kitchen refit is going on. Some people prefer getting things done alongside their daily activity which is obviously going to take longer whereas others like to get things done quickly which can be managed by getting the family out of the house on a holiday.
Structural Changes
Does your fit out plan include structural changes to existing kitchen? If you plan to have kitchen extensions, it will involve structural changes but it is also a possibility that your existing kitchen layout might turn out to be completely impractical. If you have a bigger space, adding a kitchen island is a definite possibility as an island is capable of completely revolutionising a kitchen space and it also acts as a great way to show off that quartz or granite worktop. Keep in mind that more structural changes are going to add time to the fit out. However, if you are getting a kitchen that works well with your lifestyle and habits, the additional time is going to be worth it.
Materials
When you are in the planning stages of a project, you wouldn't want to compromise on certain design ideas. When it comes to kitchen, it is often the choice of materials. If you're after a particular granite or marble, you should find out from the supplier if it might take an unusual time to arrive. You should know that these are natural stones and therefore, you need to order them in time for your supplier to cut them properly and install them. Discuss these things with your supplier to make sure that there aren't any unnecessary delays that may add to your project timelines.
Suppliers
Don't forget to do your research when it comes to choosing suppliers. It is recommended to choose suppliers and contractors based on their reputation instead of price. While personal recommendation is a great way to choose you should also check testimonials or customer reviews. Ask for quotes from different contractors and suppliers and focus on communication. Open lines of communication are necessary to avoid any misunderstandings with your contractors and suppliers as these are the things that often lead to time delays.