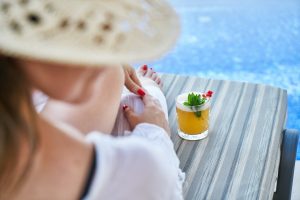 While there are convenient AirBNB services and a myriad of rental apartment opportunities to choose from, three are some reasons the modern traveller should consider the luxury accommodations found at the finest hotels! While those travelling on a tight budget will probably find a better deal at one of these economic options, there are some good reasons to take on the slightly larger costs of a truly comfortable luxury hotel for your
Borneo Holiday
.
1. Better value
If you are travelling in luxury, you can find an especially lavish attention to detail that is just not found in AirBNBs and even the finest property rentals. For example, you may be greeted with a special memento to celebrate the occasion. This might be a special detail for your child or even a bottle of fine champagne if you happen to be on a honeymoon, anniversary or retirement celebrations. Cakes are always there for birthday celebrations, reservations at the finest local dining restaurants, and housekeeping twice a day, all to make your stay a truly special experience.
2. Better service
The finest hotels and
luxury resorts
have the most selective recruitment processes and even more rigorous when selecting the associates that will be interacting with guests. It is the superior level of customer service that makes the biggest difference you will find in luxury names like The Peninsula, Mandarin Oriental, Four Seasons, Aman Resorts and other hotel chains.
3. A better night's sleep
The most basic thing you hope to find in a home away from home is a place is a good night's sleep. Nevertheless, there are many hotels and other mid-level accommodation that fail in this regard as well. This can be caused by a faulty air conditioner in hot climates, saggy or solid mattresses or too much light entering the room when you are trying to sleep in the morning. On the other hand, a luxury hotel will offer the perfect settings for a restful sleep. This includes plush mattresses, precise temperature settings, and black out shades that ensure the interior is dark as night so you can even take a nap in the middle of the day.
4. Better VIP and loyalty perks
There are preferred partner programs offered by the most luxurious hotels. Being a member of such a luxury consortium allows you to enjoy certain amenities like an upgrade upon arrival, hotel credit, complimentary breakfasts and many other amenities depending on how your booking is made.
5. Ability to move rooms or suites if needed
There will be times when an unexpected problem arises with your room or our reservation. If you have rented a property, you could be in for a rough night and potentially a really bad vacation memory of looking in vain for accommodations. A luxury hotel will rarely have any such issue and will bend backwards to provide solutions if something were ever to occur. They may even upgrade your accommodations to the presidential suite – No problems at all!
6. No fees if you cancel a refundable reservation
If you have to change your plans for any reason, you will not have to fight and argue to get your full refund. Sometimes you may even call the day before and pay nothing to alter your reservation, but check with the
hotel's cancellation policy
first to ensure this is an option for you. Of course, this is not the case with the AirBNB where hosts can have very strict policies about cancelling reservations. This means you stand to lose your entire payment if you have to cancel for any reason, and reasons always come up at the very last minute. Even if you do manage to find a host that does offer a more flexible cancellation policy, AirBNB will be collecting a portion of your payment. This fee is non-refundable and gone forever if your plans change for any reason.