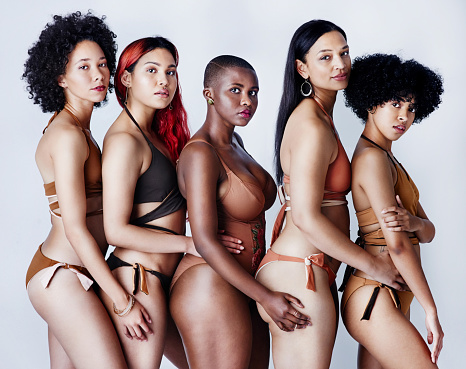 Recently, we've witnessed a change in the culture of advertising and the fashion field. In the past, modelling was meant for tall and waif-like models. Or for photoshopped images that ended looking like ridiculous and unbelievable portions. Things have changed and we now can see not only real women but women of all shapes and sizes. However, is there a single demographic that has people talking more than the rest? It's true,
the plus-size women
. There may indeed be a hot debate about the real plus size - some retailers think it's something like the small size of 16, whereas for most it's anything 18+ - the plus-size label is undoubtedly taking the fashion world by storm. Many think it's about time keeping in mind that the average size of ladies in the UK is 16.
Plus-size in Fashion
Popular culture usually trickles down from higher ranks. That's why young people should see some plus-size models like Tess Holiday and Ashley Graham shining in the catwalks and showing the masses what the plus-size is made of. But let's ask ourselves, is it all merry, or are there some who think the 'plus-size' label is discriminatory? You'll agree with us it's both of them. The roll-out of plus-size in high street stores is a part of the celebration. But there are still some problems. They include a lack of standardisation of sizes and hiding plus-size ranges in the back of stores. Huge size differences can be found in the lower size ranges - a size 10 in Zara is different from the same size in M&S. However, it gets more perplexing when you're dealing with a plus-size range. You'd wonder, is a 6X similar to a 24W? It's clear there a real challenge. And then the label comes. Plus-size clothing is considered for obese and overweight people according to Wikipedia. Here lies a huge part of the problem. AT a size of 16, many women will fall into this category. Therefore, does it mean all of us are obese, or under the right nutrition are we not just curvier and maybe the 'norm'? Is a 'plus-size' even necessary to have? Or should this labelled be forgotten, and have all sizes in display at the same time also considering underwear and the
plus-size bras
? Should they have a range from petite to plus size, moving up from a size of 6 to something like 26? We're certain, you think that this would prevent most of the frustration and erase the stigma resulting from having to shop in a secluded 'plus-size' section.
Plus-size in Workplaces
Unfortunately, even with the massive push for inclusivity and acceptance, plus-size women are still being discriminated at work. It's said that in interviews the interviewer fixes their mindset with the initial 5 minutes. Such can only be based upon appearance, and that's where a problematic attitude towards plus-size individuals still lies. According to research from LinkedIn, a quarter of employees believe they've failed to secure job positions or promotions, as a result of their weight. So, by continuing to spread the label, are we perpetuating the idea that there's a different thing? If the label is removed, would this be different? Whether the label makes a difference, or it fails to bring any change, we hope that the quest for
inclusivity at workplaces
will kill such kind of discrimination. Maybe what initializes as a celebration in the plus-size fashion field will better these attitudes.